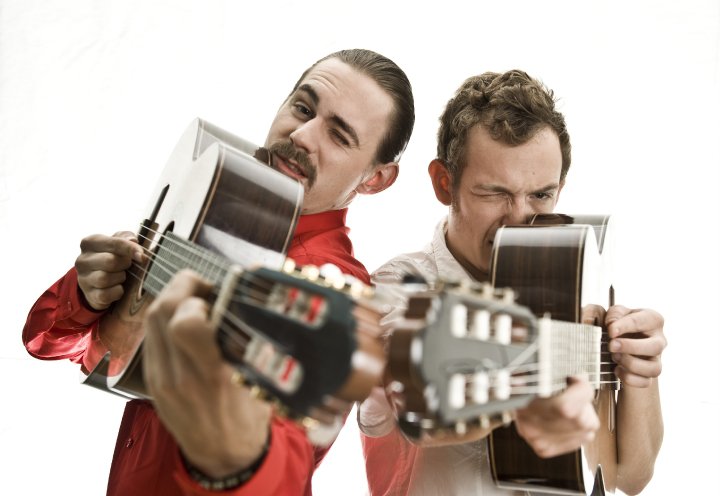 Copenhagen Guitar Duo
Copenhagen Guitar Duo består af Allan Sjølin og Martin Buono.
De spiller et mix af klassisk og verdensmusik og de forener det bedste af begge verdener.
De er begge højt uddannede klassiske musikere ved Det Kongelige Danske Musikkonservatorium og har spillet sammen i over et årti med masser af erfaring, scenetække og originale fortolkninger af verdensmusik.
Deres musik består af originale kompositioner, tango, brasiliansk, balkan, dansk samtidsmusik, flamenco, rumba og listen fortsætter.
De er hyldet for deres virtuositet og musikalitet, for eksempel af den spanske mester Diego Cayuelas: "..den bedste fortolkning jeg har hørt.." og den danske presse skrev: "..her blev præsteret guitarspil af høj klasse.." .."Piazzollas svære tekniske tango blev demonstreret overbevisende" (Holbæk Dagblad) – "med intet andet end to guitarer skabte de to guitarister et univers af farver (Folketidende)".
De er prisvindere ved Det Kongelige Danske Musikkonservatoriums årlige kammermusikkonkurrence.
Agua y vihno
Armandos Rumba
Blue bossa
Butterflies
Chussn Kalah Mazel Tov
Douce ambiance
Escolaso
Granada
It dont mean a thing
Jobiniana
La Cumparsita
La Fiesta
Minor Swing
Sevilla
Spain
Swing 42
Tamacun
Tango suite
Tico Tico
Tristeza
Troublant bolero
Zita