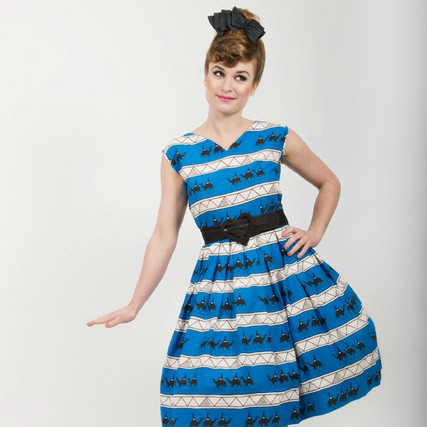 DaDoRunRun
DaDoRunRun er et festband, der spiller alt det bedste musik fra 50erne og 60erne. Så hvis du er vild med Elvis, Beatles, The Platters, The Temptations, Ray Charles, Etta James og alle de vidunderlige musikere fra dengang, er det DaDoRunRun du skal have til din fest. Bandet er fuldt af spilleglæde samt kærlighed til gammel rock'n'roll og motown musik. Her får I 4 erfarne musikere, der alle er professionelle inden for faget.
Dennis Flacheberg (guitar) spiller til dagligt med bl.a. L.I.G.A., Morten Remar (Back to Back) og Charlotte Fich.
Kristian Martinsen (bas) har tidligere gjort sig som guitarist og producer i det dansksprogede, anmelderroste indierockband Entakt, og desuden arbejdet med bl.a. Christian Brøns, Annette Heick og Henrik Strube.
Thøger Bak Wessel (trommmer) har spillet med bl.a. Burhan G, Shirley og Christian Brøns.
Louise Dubiel (vokal) er kendt fra tv fra Talent 09, Melodi Grand Prix 2013, og har haft et hit i radioen med sangen "Forpulet Perfekt", som de fleste kender.
DaDoRunRun spiller musik fra 50erne og 60erne fordi det er musik de alle holder af.
Med DaDoRunRun får du et fuldendt band med guitar, trommer, bas og verdensklasse sangerinde med lækkert mandekor og masser af grin på scenen.
Vi glæder os til at holde en fest med jer!
Rock Around The Clock – Bill Haley & The Comets
Jailhouse Rock – Elvis
Good Golly Miss Molly
Tutti Frutti
Blue Suede Shoes
Let's Twist Again – Chubby Checker
Never Can Tell – Chubby Checker
The Twist – Chubby Checker
Bye Bye Love – Everly Brothers
Do You Wanna Dance? – Bobby Freeman
My Boyfriends Back -The Angels
Sweet Nothings – Brenda Lee
Twist & Shout – The Beatles
All MY Loving – The Bealtes
I wanna Hold your hand -The beatles
Do You Love me (Now that I can dance?)
Rockin Robin – Booby Day
Eight Days A week -Beatles
Be mY Baby – The Ronettes
At Last – Etta James
That's all right mama – Elvis
Ticket To Ride – Beatles
Suspicous Minds – Elvis
It's My Party -Lesley Gore
These Boots Are Made For Walking – Nancy Sinatra
Heartbreak Hotel – Elvis
Hit The Road Jack – Ray Charles
Great Pretender – The Platters
Sherry – The 4 Seasons
Only You – The Platters
She Loves You – Beatles
Ticket To Ride – Beatles
Somethings Gotta Hold On me – Etta James
Yakety Yak – The Coasters
Lollipop – Chordettes
My Boy Lollipop
Fever – Peggy Lee
Johnny B Good
Hound Dog – Elvis
Hello Mary Lou – Tommy Steele
Halleluja I love Him So – Brenda Lee
Mr Postman – The Marvelettes
Da Du Run Run – The Crystals
Locomotion – Litlle Eva
Stand By Me – The Drifters
Sugar, Sugar – The Archies
My Girl  -The Temptations
Love Is Strange – Mickey & Sylvia
Unchained Melody – Righteous Brothers
The Shoop shoop song – Betty Everett?