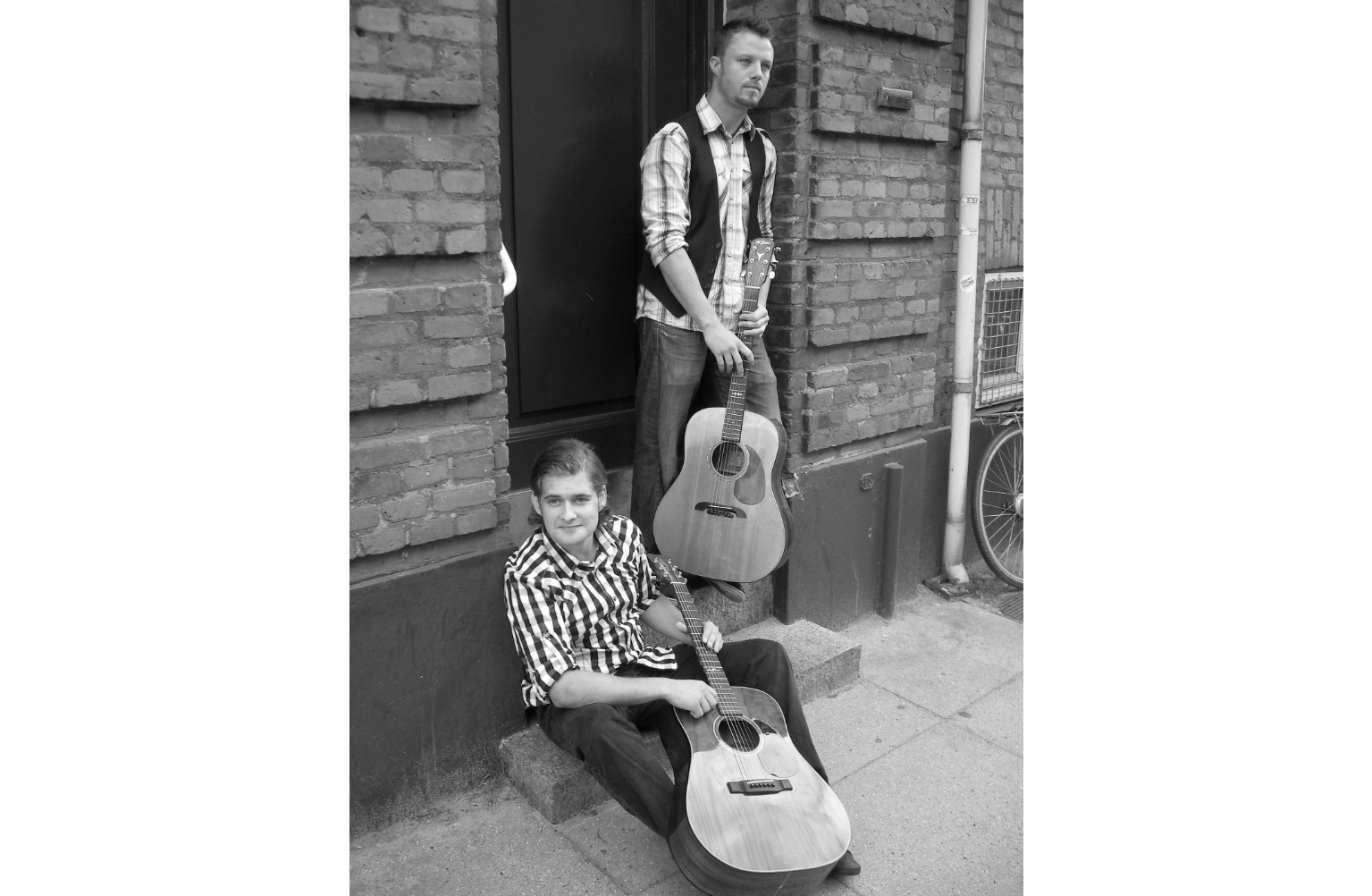 STANDARD fuldender den hyggelige, festlige fest.
STANDARD er en duo bestående af Brian Meincke og Peter Lützen. De to har i de sidste 10 år underholdt på barer og til privatfester over det meste af landet.
STANDARD sætter en ære i at fuldende en god fest med festlig og stemningsfyldt musik, som alle kender, og som de fleste kan synge med på.
Når de to unge mænd spiller op, er der rig mulighed for at danse, men i og med at de eneste instrumenter er to guitarer og to vokaler, er der stadig mulighed for at blive siddende ved sit bord og fortsætte sine samtaler. For selvom STANDARD i den grad spiller op til fest, er der ingen tvivl om, at en fest er bedst, hvis alle kan være med.
Repertoiret spænder vidt fra gamle 60'er klassikere som Beatles, Van Morrison og ligenende, til nyklassikere som Take That, Kim Larsen, TV2, Nik og Jay, Rasmus Seebach osv.
Fokus er lagt på at gengive alle numrene så tro mod originalen som muligt.
Med rockende guitarspil og tætte, sprøde vokalharmonier spreder STANDARD hygge og fest.
Ben E. King – Stand By Me
Bob Marley – Is This Love
Bruce Springsteen – The River
C.V. Jørgensen – Costa Del Sol
CCR – Bad moon Rising
Christian Brøns – Mød Dig Selv
Cliff Richard – Young Ones
DAD – Laugh N' A Half
Danseorkestret – Kom Tilbage Nu
David Bowie – Space Odissey
David Bowie – Starman
Deep Blue Something – Breakfast at Tiffany's
Del Shannon – Runaway
Depeche Mode – Enjoy The Silence
Depeche Mode – Personal Jesus
Duran Duran – Ordinary World
Dusty Springfield – I Only Wanna Be With You
Eagle Eye Cherry – Save Tonight
Elvis Presley – Don't Be Cruel
Elvis Presley – His Latest Flame
Elvis Presley – That's Allright Mamma
Eric Clapton – Layla
Garth Brooks – Friends In Low Places
Gerry and The Pacemakers – How Do You Do It
Green Day – Basket Case
Green Day – Boulevard Of Broken Dreams
Green Day – When I come Around
Herman Hermitts – No Milk Today
Jamie Walters – Hold On
Jamie Walters – Why
Jason Mraz – I'm Yours
John Mogensen – Der Er Noget Galt I Danmark
Johnny Cash – Folsom Prison Blues
Johnny Cash – Ring of Fire
Kim Larsen – Den Allersidste Dans
Kim Larsen – Kringsatt af Fjender
Lars H.U.G – Lille Natsværmer
Last Shadow Puppets – Standing Next To Me
Malurt – Superlove
Morrissey – First of The Gang
Motown – Locomotion
Paul McCartney – Hope Of Deliverance
REM – Losing My Religion
Robbie Williams – Angels
Rockazino – All My Love
Roy Orbison – You Got It
Simon&Garfunkel – Mrs. Robinson
Simon&Garfunkel – Sound of Silence
Take That – Patience
The Beatles – All My Loving
The Beatles – And I Love Her
The Beatles – From Me To You
The Beatles – I Wanna Hold Your Hand
The Beatles – Norweigan Wood
The Beatles – She Loves You
The Beatles – Twist and Shout
The Beatles – We Can Work It Out
The Everly Brothers – Dream
The Everly Brothers – Wake Up Little Susie
The Smiths – There's A Light That Never Goes Out
Tim Christensen – Barb Wired Baby
Van Morrisson – Brown Eyed Girl
50'er – Teenager In Love
Billy Joel – Uptown Girl
Billy Ray Cyrus – Achy Breaky Heart
Bruce Springsteen – Hungry Heart
Elton John – Daniel
Elvis Presley – Blue Suede Shoes
Elvis Presley – Good Luck Charm
Erik Hassle – Don't Bring Flowers
Gasolin – Kvinde Min
Gasolin – Langebro
Gasolin – På Banen Deruaf
Hanne Boel – Don't Know Much About Love
John Mogensen – Du Ser Mig Når Jeg Kommer
John Mogensen – Du Ser Mig, Når Jeg Kommer
Kim Larsen – Byens Hotel
Kim Larsen – Dagen Før
Kim Larsen – Fru Sauterne
Kim Larsen – Jutlandia
Kim Larsen – Midt Om Natten
Kim Larsen – Rita
Kim Larsen – Susan Himmelblå
Laban – Hvor Skal Vi Sove I Nat
Landsholdssangen – Landsholdssangen
Medina – Vi To
Milo – Ayo Technology
Nik og Jay – Kommer Igen
Nik og Jay – Tag Mig Tilbage
Oasis – Wonderwall
Rasmus Seebach – 97. Engel
Rasmus Seebach – Lidt I Fem
Red Hot Chili Peppers – Other Side
Red Hot Chili Peppers – Californication
Rolling Stones – Under the Boardwalk
Roy Orbison – Pretty Woman
The Beatles – Nowhere Man
The Beatles – Girl
The Beatles – Please Please Me
The Eagles – Hotel California
Thomas Helmig – Nu Hvor Du Har Brændt Mig Af
Travelling Wilburys – Handle With Care
TV2 – De Første Kærester på Månen
TV2 – Alt Hvad Hun Ville Var At Danse
TV2 – Duggede Ruder
TV2 – Kærligheden overvinder alt
TV2 – Lanternen
Ugly Kid Joe – Girl You'll Be A Woman Soon