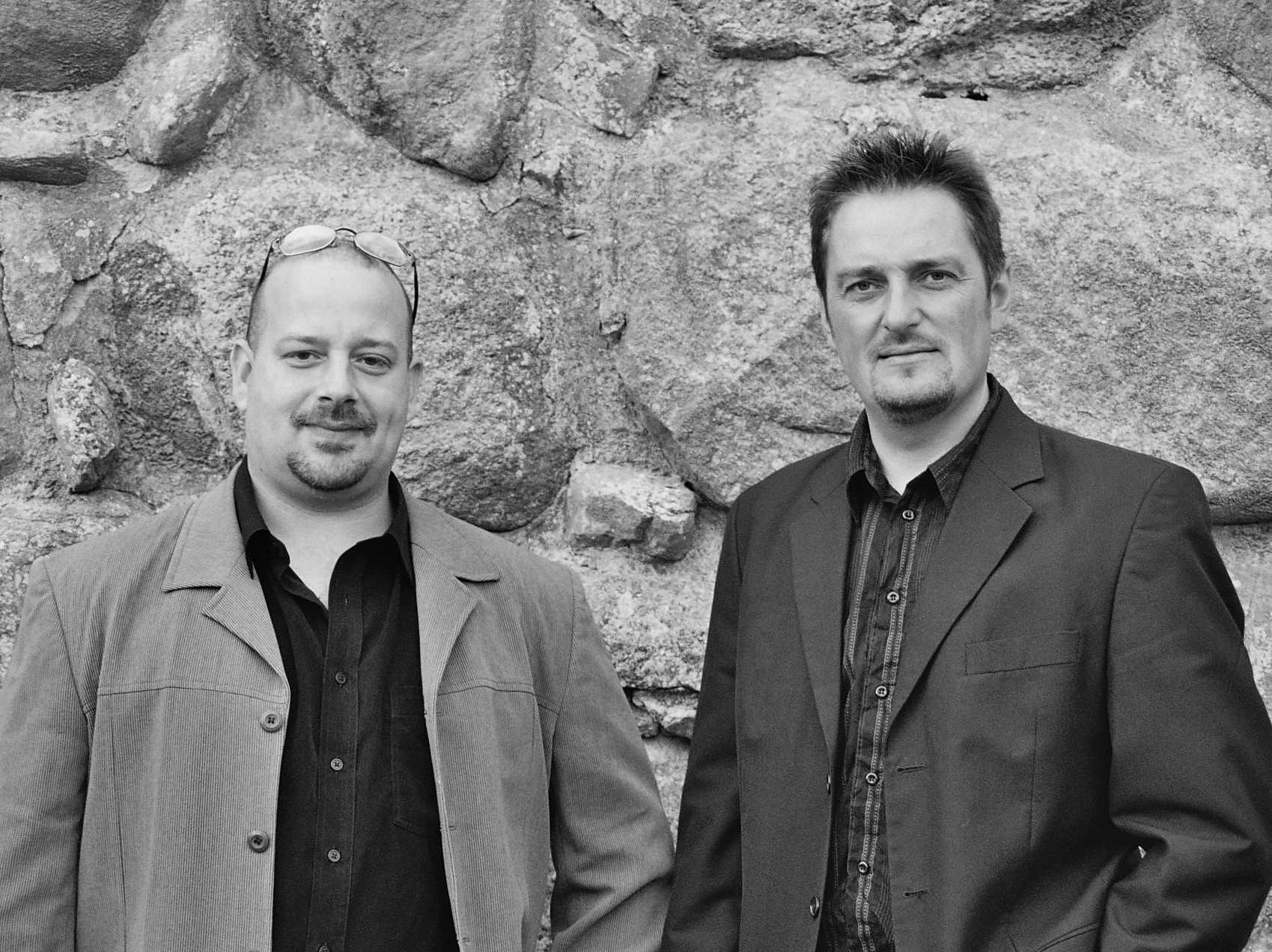 The Duponts
Pop og rockklassikere fra gedigen duo
The Duponts kan spille både i en 'unplugged-udgave' til cafeer og receptioner, hvor fællessang og ørehængere er i højsædet eller i en 'party-udgave', hvor der spilles mere dansevenlig musik. Sætlisten kan i øvrigt sagtens kombineres til både diner og dans.
Uanset hvilken udgave der vælges, er The Duponts altid garanti for en god aften, for i selskab med to så kompetente guitarister/bassister med næsten 60 års erfaring tilsammen, så kan det ikke gå galt.
The Duponts forstår at spille lige præcis det repertoire, som publikum kan lide. De kan hurtigt fornemme stemningen og da deres sætliste er uendelig lang, så er der med garanti noget for enhver smag.
Indenfor den akustiske afdeling spilles bl.a musik af:
Kim Larsen, Oasis, Garth Brooks, REM, C.V: Jørgensen, Eagles, Poul Krebs, Eagle Eye Cherry, Queen, Malurt, George Michael, Shubidua, Sting, Creedence Clearwarer Revivial, Van Morrison og Thomas Helmig.
I partyudgaven kan man bl.a. forvente musik af kunstnere som: Danseorkestret, The Beatles, TV2, Elvis, Zididada, Prince, Elvis, Gasolin, Big Fat Snake, Eric Clapton, Police, Tom Jones og Michael Jackson.
Lyt til dem i både akustisk og mere dansabel udgave.
B.B. King – Lucille
Bamses Venner – Vil du danse med mig?
Bamses Venner – Vimmersvej
Big Fat Snake – Whenever You´re Ready
Blues Brothers – Sweet Home Chicago
Bonnie Raitt – Something To Talk About
Bryan Adams – Summer Of ´69
Bryan Adams – The Only Thing
CCR – Proud Mary
Coco Montaya – Talking Woman Blues
Deep Purple – Smoke On The Water
Diesel – Tip Of My Tongue
Dire Straits – Sultans Of Swing
Dr. Hook – Sylvia´s Mother
Eagle Eye Cherry – Save Tonight
Eric Clapton – Wonderful Tonight
Gasolin – Sirenesangen
Hank Williams – Tulsa Time
Henning Stærk – Smalltown Saturday Night
Joe Cocker – Unchain My Heart
John Mogensen – Så længe jeg lever
Kim Larsen – Midt om natten
Kim Larsen – Syd for Køge
Kim Larsen – Om lidt
Kim Larsen – Papirklip
Low Budget Bluesband – Walking The Dog
Lynard Skynard – Sweet Home Alabama
Mack Rice – Mustang Sally
Malurt – Super Love
Mike And The Mechanics – Over My Shoulder
Poul Krebs – She Was A Sweetheart
Poul Krebs – Sådan nogen som os
Prince – Purple Rain
Rasmus Nøhr – Sommer i Europa
REM – Losing My Religion
Sheryl Crow – Soak up the sun
Shubidua – Rap jul
Shubidua – Står på en alpetop
Status Q – Rocking All Over The World
The Dubliners – Whiskey In The Jar
The Dubliners – Molly Malone
Thomas Helmig – Nu hvor du har brændt mig af
Thomas Helmig – Stupid Man
Tom Jones – Sex Bomb
Tracy Chapman – Talking `Bout A Revolution
U2 – One
Wet Wet Wet – Love Is All Around
Wild Cherry – Play That Funky Music White
Z.Z. Top – Tush
Zididada – Please Ya´ Lisa