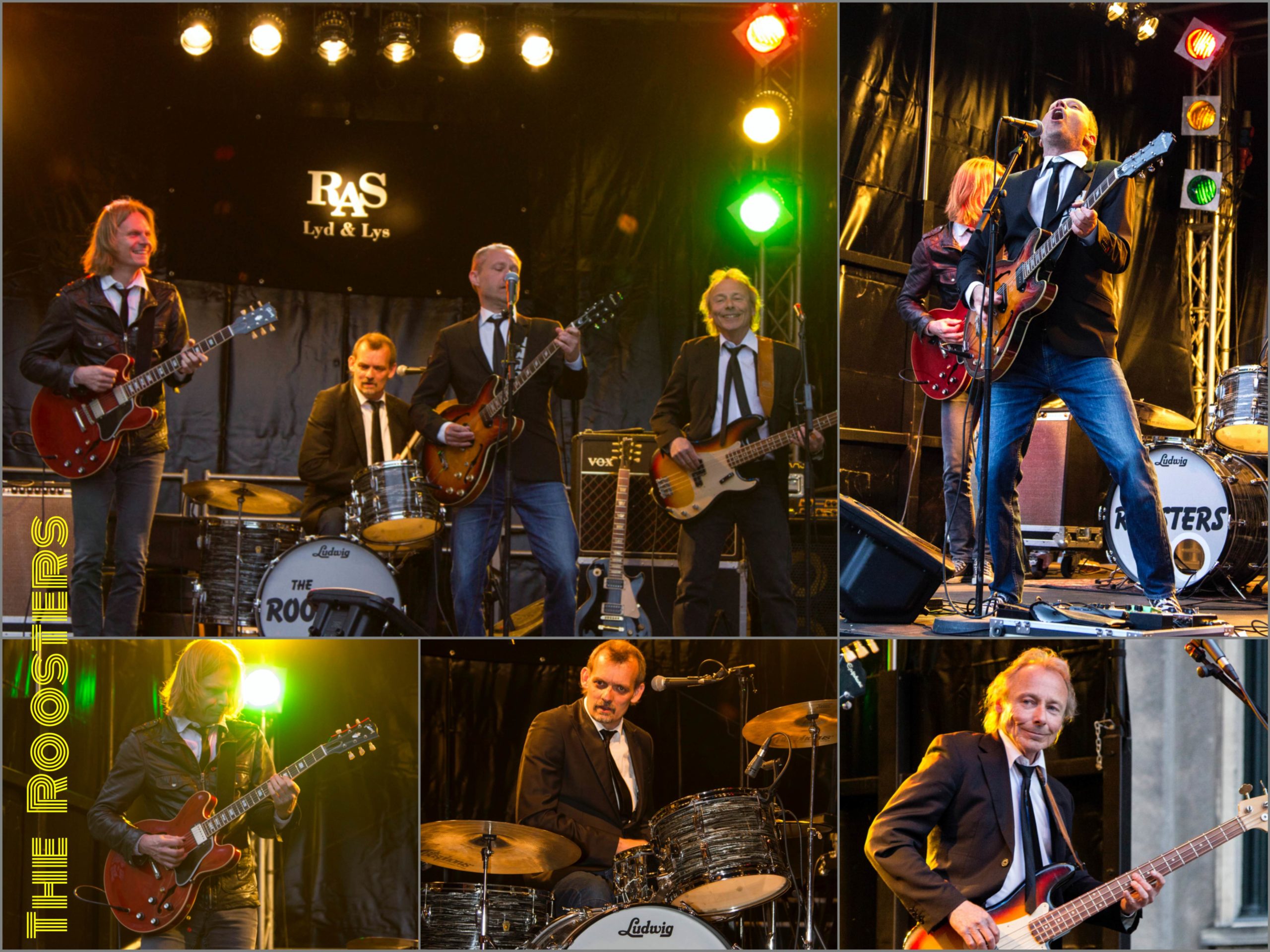 The Roosters
The Roosters er et professionelt rock'n roll band som med garanti hitter til hver en fest. Med deres charmerende og overbevisende levering af numre fra 60'ernes klassikere , 70'ernes rock og disco og hits frem til i dag vil man med garanti få en glad og 'svedig' oplevelse.
The Roosters har med sine mange år på banen, en overordentlig træfsikker evne til at levere netop den vare som publikum efterspørger, og betegnes af mange som et af de mest helhjertede bands i deres genre.
Orkestret har samtidig en yderst professionel holdning til hvervet og fremstår som et yderst overbevisende band, der når ud over scenekanten.
ABBA – Does your mother know
Barry White – My first my last my everything
Bill Haley – Shake rattle and roll
Brian Poole and the tremmoloes – Do you love me
Bryan Adams – Sommer of 69
CCR – Cotten fields
CCR – Have you ever seen the rain
Chuck Berry – Johnny b good
Chuppy Checker – Lets twist again
Cliff Richard – Lucky lips
Danny and the Juniors – At the hop
Dion & Belmonts – Teenager in love
Eddie Cochran – 20 flight rock
Eddie Cochran – Blue suede shoes
Elvis Presley – Burning love
Eric Clapton – Wonderfull tonight
Gasolin – Det bedste til mig og mine venner
Gasolin – Inka katinka
Jerry Lee Lewis – Great balls of fire
Jerry Lee Lewis – Whole lotta shaking
John Mogensen – To mennesker på en strand
Kim Larsen – Rita
Lips Inc – Funkytown
Little Richard – Good golly miss molly
Louis Prima – Buerno sera
Manfred Mann – Doo wha diddy
Neil Sedaka – Breaking up is hard to do
Neil Sedaka – Ohh carol
Rick Nelson – Garden paty
Ricky Nelson – Hello mary lou
Roy orbison – Pretty woman
Spencer Davis Group – Keep on running
Steppen Wolf – Born to be wild
Swinging Blue Jeans – Hippy hippy shake
The Beatles – All my lovin
The Beatles – Obla di obla da
The Beatles – Saw her standing there
The Beatles – Twist and shout
The Birds – Tamburine man
The Champs – Tequila
The Monkees – I am a believer
The Searchers – Needles and pins
The Searchers – Walk in the room
The Stones – Honky tonk women
The Stones – Satisfaction
The Temptations – My girl
Thomas Helmig – Det er mig der står herude og banker på