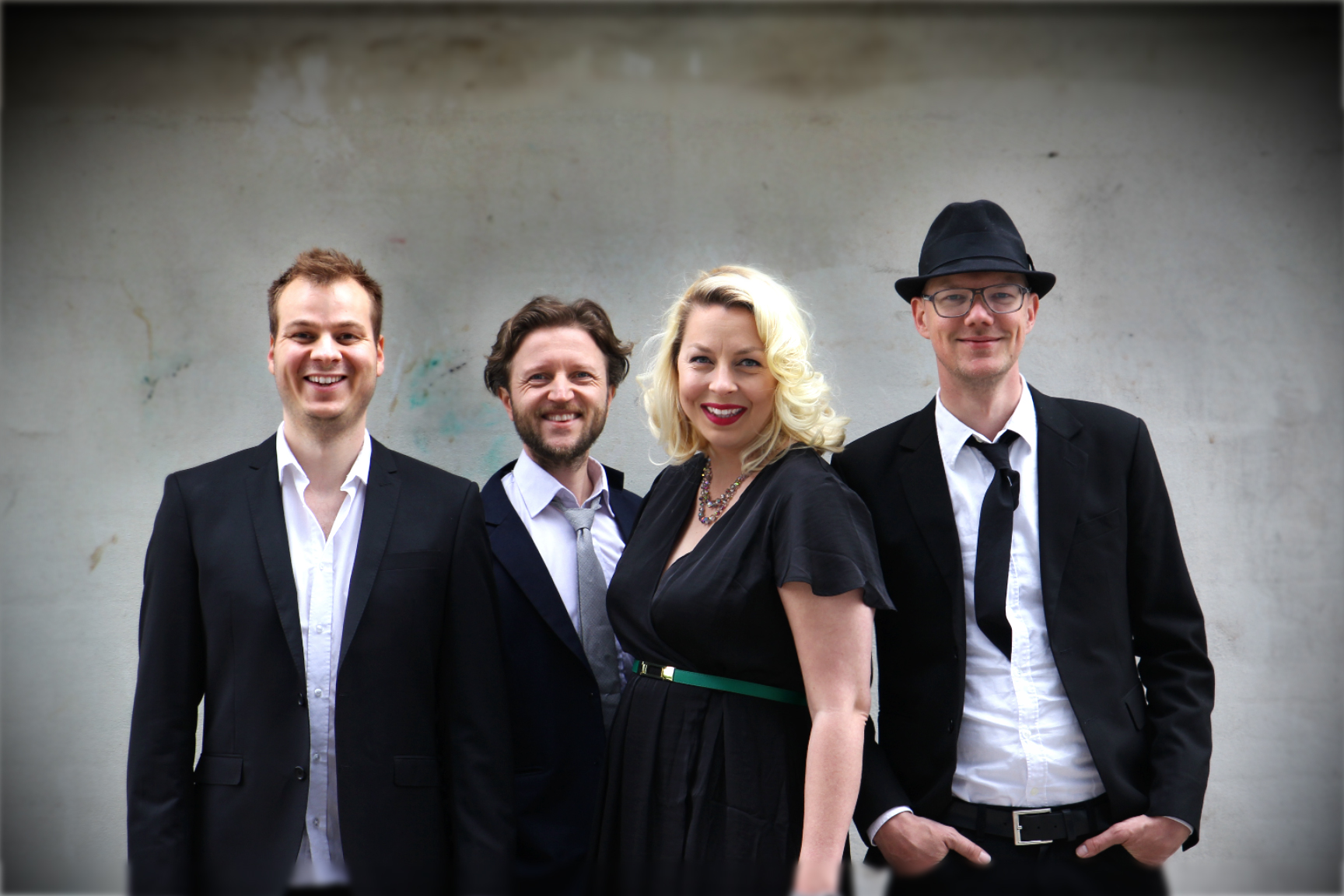 Hvis du vil have jazz i højeste kvalitet som alle dine gæster vil kunne forstå og lytte til, så er Jazz Til Fest lige sagen.
Hvad enten du vil have diskret jazz i baggrunden til at skabe behagelig atmosfære til vinen, eller om dine gæster vil op at danse, kan den sagtens sættes op i gear med swingnumre leveret med energi.
Repertoiret består af en skøn blanding af det gode gammeldags materiale, af kunstnere som: Nat King Cole, Frank Sinatra, Ella Fitzgerald osv med alle klassikerne.
As time goes by
After you've gone
Ain't misbehavin
All of me
All the things you are
Almost like being in love
Autumn leaves
Basin street blues
Bewitched
Black coffee
Body and soul
The boy next door
But not for me
Bye bye baby
Bye bye blackbird
Cheek to cheek
Close your eyes
Comes love
Corcovado
Cry me a river
Days of wine and roses
Deed i do
Do nothing 'till you hear from me
Don't explain
Don't fence me in
Don't go to strangers
Dream a little dream of me
East of the sun
Ev'ry time we say goodbye
Exactly like you
Fly me to the moon
Frim fram sauce
Give me the simple life
Gone with the wind
Honeysuckle rose
How deep is the ocean
I can't give you anything but love
I concentrate on you
I get along without you
I love being here with you
I love paris
I should care
I wish you love
I won't dance
I'll be seing you
I'm beginning to see the light
I'm in the mood for love
I'm through with love
I've got at crush on you
I've got you under my skin
If I were a bell
Is you is or is you ain't
Isn't this a lovely day
It could happen to you
I't don't mean a thing
It had to be you
It might as well be spring
It never entered my mind
Just one of those things
A kiss to build a dream on
La vie en rose
Let there be love
Let's face the music and dance
The look of love
Lullaby of birdland
The man i love
Manhattan
Misty
Moon river
Moonlight in vermont
Moonlight saving time
More than you know
My baby just cares for me
My favorite things
My fynny valentine
My heart belongs to daddy
The nearness of you
Night and day
A nightingale sang i berkeley square
No moon at all
On the street where you live
On the sunny side of the street
Our love is here to stay
Over the rainbow
Ps i love you
People will say we're in love
Perhaps perhaps perhaps
Pick yourself up
Puttin on the ritz
Round midnight
S'wonderful
Satin doll
September in the rain
Skylark
Smile
So nice / summer samba
Someone to watch over me
Stairway to the stars
Stars fell on alabama
Stormy weather
Straigthen up amd fly right
Strangers in the night
Sway
Taking a chance on love
Tea for two
Teach me tonight
They all laughed
They can't take that away from me
This can't be love
Under a blanket of blue
Unforgettable
The very thought of you
The way you look tonight
What a difference a day made
What a little moonlight can do
What a wonderful world
What are you doing the rest of your life
What is this thing called love
When i fall in love
You go to my head
You'd be so nice to come home to
You're the top