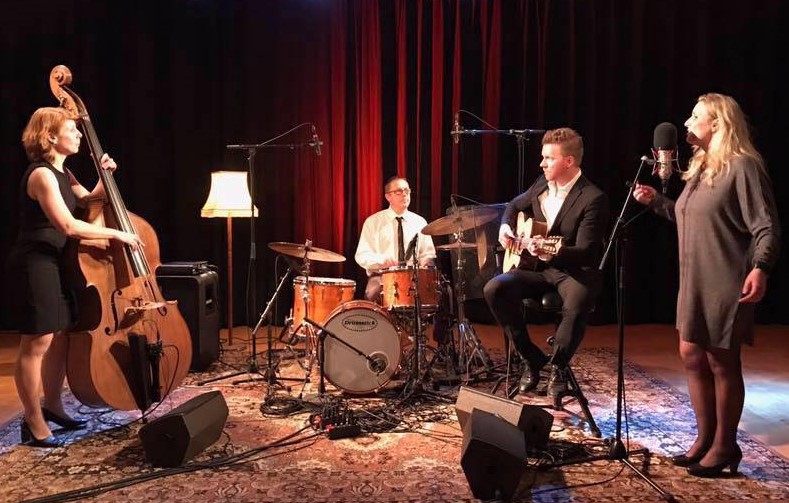 Med en kombination af jazzstandards som Love for sale, Summertime og Fly me to the moon, Bossanova klassikere som The girl from Ipanema og Corcovado samt jazzede popsange fra kunstnere som Lisa Ekdahl, Caroline Henderson, Norah Jones og Lars H.U.G. skaber Bossa4pleasure en hyggelig og afslappet stemning.
Kvartetten består af Vokal/percussion, spansk guitar/klaver, Kontrabas og trommer.
Bossa4pleasure kan også bookes som trio.
Aqua de beber – A.C. Jobim
Backwards – Lars H.U.G.
Beautiful love – Anita O'day
Benen i kors – Lisa Ekdahl
Close to you – The Carpenters
Corcovado – A.C. Jobim
Cuban cigars – Cecilie Nordby
Deidres samba – Cornelis Vreeswijk
Desafinado -Joao Gilberto
Don't know why – Norah Jones
Dream a little dream of me – Mamas & Papas
Ett och noll – Bo Kaspers Orkester
Fly me to the moon – Frank Sinatra
Fragile – Sting
How insensitive – A.C. Jobim
Isn't she lovely – Stevie Wonder
Love for sale – Cole Porter
Lullaby of birdland – Ella Fitzgerald
Made in Europe – Caroline Henderson
My cherie amour – Stevie Wonder
My favorite things – Julie Andrews
Nature boy – Nat King Cole
One note samba – A.C. Jobim
Our love is here to stay – L. Armstrong & E. Fitzgerald
Perhaps, perhaps, perhaps – Doris Day
Sakta vi gå gennom stan – Monika Zetterlund
Save your love for me – Nancy Wilson
Smooth operator – Sade
So danco samba – A.C. Jobim
Summertime – Billie Holiday
Sunny – Bobby Hebb
The girl from Ipanema – A. C. Jobim
The look of love – Diana Krall
The old country – Nancy Wilson
This masquerade – George Benson
Undantag – Bo Kaspers Orkester
Vem vet – Lisa Ekdahl
Visa frän Ytanmyra – Jan Johansson
Wander where you wander – Rebecka Törnqvist
Wave – A.C. Jobim
What a day for a daydream – The Lovin' Spoonful
When I fall in love – Nat King Cole
Your heart is as black as night – Melody Gardot