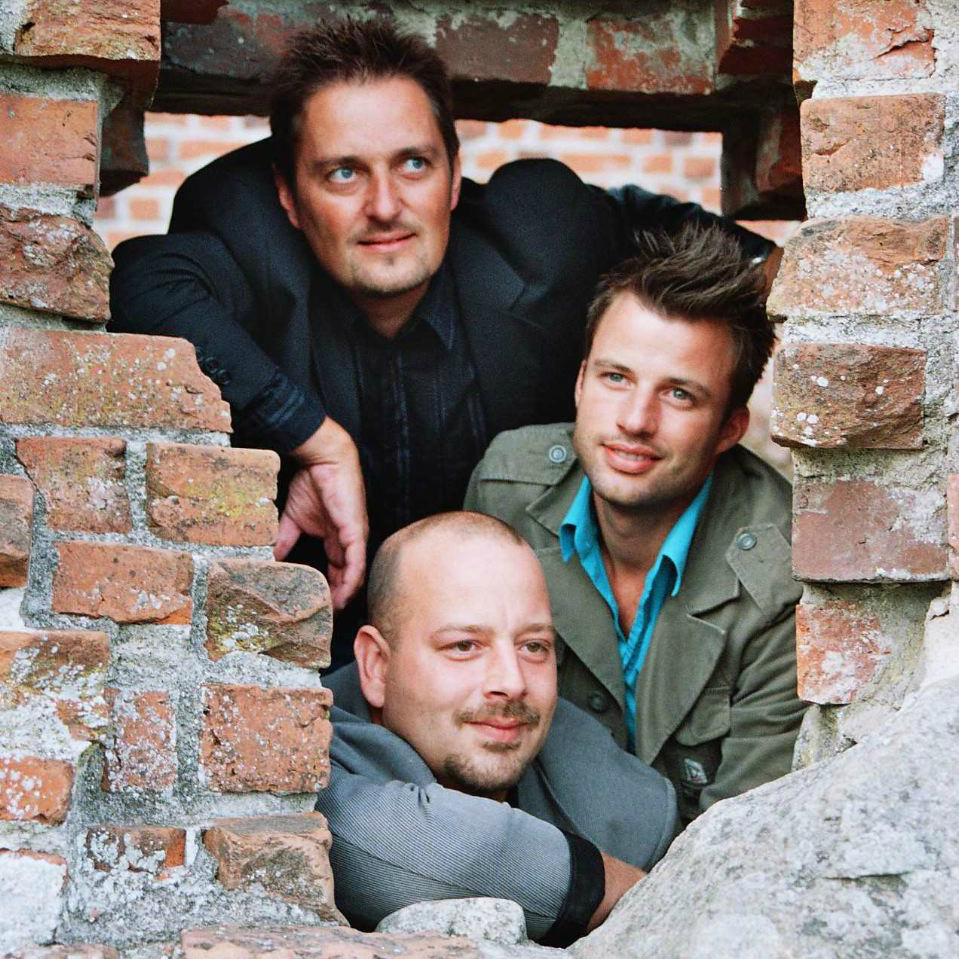 Kong Trio
Kong Trio spiller deres egne versioner af kunstnere som fx: Bryan Adams, TV2, Beatles, Big Fat Snake, Prince, Thomas Helmig, Police, Shubidua, Mike And The Mechanics, Tom Jones, ABBA, Status Q, Gasolin osv. Altså både dansk- og engelsksprogede numre indenfor følgende genrer: Pop, rock, disco, reggae, soul og blues. Kort sagt: Alt hvad der kan danses til og som bare skaber en rigtig god fest.
Kong Trio har et særdeles alsidigt repertoire med over 100 numre at vælge imellem. De første 4 – 5 numre er derfor nøje udvalgt til at dække en god blanding af sætlisten og bruges som en god rettesnor for aftenens videre forløb. Kong Trio kan også starte akustisk (unplugged) og på den måde langsomt, men sikkert varme gæsterne op – for senere at skrue op for fest og farver…..
Kong Trio spiller til alle mulige slags fester. Det være sig: Byfester, fødselsdage (fra ca. 25 – 60 år), julefrokoster, firmafester, bryllupper og konfirmationer.
Kong Trio spiller også til diverse temafester. Især er countryfester. Meget populære og derfor har bandet opbygget to sæt udelukkende med nye såvel nye som gamle klassikere indenfor denne genre. Desuden tilbydes temafester i disse genrer: 80´er musik, dansk musik, unplugged, bluesaften og rock´n´roll.
Kong Trio kan i øvrigt også spille til diner (der synges og spilles til alle sange!) Der spilles evergreens, jazz og pop m.m. Hvis det aftales, varmes publikum op efter hovedretten med sjov fællessang (Kim Larsen-stilen) og morsomme indfald.
Så tøv ikke book Kong Trio allerede i dag, men husk at snøre danseskoene – for dette band kan virkelig få folk op af stolene og ud på dansegulvet.
Udpluk af repertoire
ABBA – Does Your Mother Know
Alan Jackson – It´s Five O´Clock Somewhere
B.B. King – Let The Good Times Roll
B.B. King – Lucille
Bamses Venner – Vil du danse med mig?
Bamses Venner – Vimmersvej
Beatles – I Saw Her Standing There
Beatles – Let It Be
Big Fat Snake – Bonsoir Madame
Big Fat Snake – Whenever You´re Ready
Blake Shelton – It´s All About Tonight
Blues Brothers – Sweet Home Chicago
Bonnie Raitt – Something To Talk About
Boogie Woogie
Bryan Adams – Summer Of ´69
Bryan Adams – The Only Thing
C.V. Jørgensen – Costa Del Sol
CCR – Bad Moon Rising
CCR – Blue Moon Rising
CCR – Proud Mary
CCR – Have You Ever Seen The Rain
Chuck Berry – Johnny Be Good
Coco Montaya – Talking Woman Blues
Connies fødseldag
Danseorkestret – Kom tilbage nu
Deep Purple – Smoke On The Water
Diesel – Tip Of My Tongue
Dire Straits – Sultans Of Swing
Doobie Brothers – Long Train Running
Eagle Eye Cherry – Save Tonight
Eagles – Hotel California
Elvis – A Little Less Conversation
Elvis – Cheque Book
Elvis – Hound Dog
Eric Clapton – Before You Accuse Me
Eric Clapton – Hoochie Coochie Man
Eric Clapton – Wonderful Tonight
Eric Clapton – Lay Down Sally
Garth Brooks – If Tomorrow Never Comes
Gasolin – Det bedste til mig og mine venner
Gasolin – Rabalderstræde
Gasolin – Sirenesangen
Georgia Satelites – Keep Your Hands To Yourself
Georgia Satelites – Hippy Hippy Shake
Hank Williams – Jambalaya
Hank Williams – Tulsa Time
Henning Stærk – Fire
Henning Stærk – Smalltown Saturday Night
J.J. Cale – Cocaine
Jakob Haugaard – Det hammer hammer fedt
Jakob Sveistrup – Jeg tænder på dig
Jeff Healey – Confidence Man
Jeff Healey – I Think I Love You Too Much
Joe Cocker – Unchain My Heart
John Denver – Country Roads
John Denver – Leaving On A Jetplane
Keith Urban – Baby, I´m In
Kim Larsen – Dagen før
Kim Larsen – Fru Sauterne
Kim Larsen – Haveje
Kim Larsen – Hvis din far gi´r dig lov
Kim Larsen – Joanna
Kim Larsen – Jutlandia
Kim Larsen – Kvinde min
Kim Larsen – Om lidt
Kim Larsen – Papirklip
Kim Larsen – Midt om natten
Lars Lilholt – Kald det kærlighed
Little Richard – Long Tall Sally
Low Budget Bluesband – I´m Ready
Low Budget Bluesband – Walking The Dog
Lynard Skynard – Sweet Home Alabama
Mack Rice – Mustang Sally
Malurt – Super Love
Michael Jackson – Black Or White
Mike And The Mechanics – Looking Back Over My Shoulder
Milow – Ayo Technology
Nice Little Pinguins – Flying
Niels W. Gade – Brudevalsen
Police – Every Breath You Take
Poul Krebs – She Was A Sweetheart
Poul Krebs – Sådan nogen som os
Prince – Purple Rain
Prince – Kiss
Queen – Crazy Little Thing Called Love
REM – Losing My Religion
Restless Heart – Fast Moving Train
Rod Stewart – I Don´t Wanna Talk About It
Rolling Stones – Honky Tonk Woman
Santana – Black Magic Woman
Seal – Crazy
Shirley og Jonas Winge Leisner – Don´t Look For Love
Shubidua – Hvalen Hvalborg
Shubidua – Står på en alpetop
Shubidua – Fed rock
Shubidua – Rap jul
Smokie og Bamses Venner – Alice
Status Q – Rocking All Over The World
Sting – Englishman In New York
The Dubliners – Whiskey In The Jar
Thin Lizzy – Dancing In The Moonlight
Thomas Helmig – Jeg ta´r imod
Thomas Helmig – Nu hvor du har brændt mig af
Thomas Helmig – Stupid Man
Tom Jones – Sex Bomb
Toploader – Dancing In The Moonlight
Tracy Chapman – Baby, Can I Hold You Tonight
Tracy Chapman – Talking `Bout A Revolution
TV2 – Bag duggede ruder
Tv2 – De første kærester på månen
Tv2 – Lanternen
Tøsedrengene – Sig du ka´ li´ mig
U2 – One
Van Morrison – Brown Eyed Girl
Wet Wet Wet – Love Is All Around
Wham – Last Christmas
Wild Cherry – Play That Funky Music White
Z.Z. Top – Tush
Zididada – Please Ya´ Lisa
Big Fat Snake – Fight For Your Love